Free Epub to PDF Converter
Convert EPUB, CHM, DJVU, MOBI, TXT and RTF to PDF document.
Version: 2.0
Publisher: Weeny Software
Platform: Windows system
License: Freeware
File Name: epub2pdf.exe
File Size: 9.65M
Download Software
***This software has fatal bug that may cause blank PDF. Try our online ebook converter (https://www.aconvert.com/ebook/) instead.***
Epub to PDF Converter is a free PDF converter software to batch convert EPUB, DOC, DOCX, DJVU, MOBI, CHM, RTF, HTML and TXT to PDF document.
Epub to PDF Converter is easy-to-use. Just add e-book files such as EPUB, CHM or MOBI files to the list, set output directory, then click the Convert button to start converting. The conversion will complete in a few minutes.
Additionally, Epub to PDF Converter can add watermark, passwords, restrictions and certain information such as title, subject, author or keywords to the output PDF documents.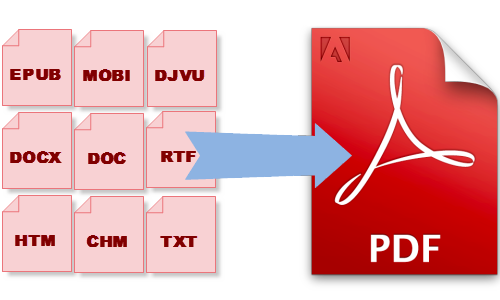 Epub to PDF Converter doesn't support DRM protected ePub or mobi documents for copyright reasons. The output PDF pages may be blank if the source files are DRM protected.
Epub to PDF Converter doesn't require Adobe Acrobat Reader installed. Epub to PDF Converter doesn't depend on any print driver so it will not install any print driver on your computer.
Epub to PDF Converter works on Windows XP, Windows Vista, Windows 7 and Windows 8, both 32-bit and 64-bit versions.
Version 1.1 added support for converting Word document (*.doc, *.docx) to PDF document. It supports almost all the popular e-book formats now.
Click the download button above to download Epub to PDF Converter full version. Full version means the file is complete and doesn't require other PDF software, plug-in or printer to run. Full version also means Epub to PDF Converter software doesn't have any watermark, nag screen, time expiration or function limitations.
Command line program is available.
Improved DOC/DOCX to PDF conversion result.
Support account without administrator right.
Support file drag-and-drop.
Small bugs fixed.
Easy to use - A couple of clicks to finish PDF converting.
Free to use - 100% free to download, install and use, no extra fee.
Epub to PDF Converter - Convert e-book EPUB document to PDF.
MOBI to PDF Converter - Convert e-book MOBI document to PDF.
DJVU to PDF Converter - Convert e-book DJVU document to PDF.
CHM to PDF Converter - Convert help manual CHM document to PDF.
RTF to PDF Converter - Convert rich text file RTF document to PDF.
Word to PDF Converter - Convert Word DOC and DOCX document to PDF.
Weeny Free Epub to PDF Converter can help you easily batch convert e-book files and other formats to PDF documents. The application supports several input file formats, such as CHM, DJVU, MOBI, TXT, HTM and RTF.
The usage is simple: just choose the desired files, change the output location and click the 'Convert' button! In addition, you can optionally add detailed information to the output PDF.
-Softpedia
Weeny Free Epub to PDF Converter is an easy-to-use program with a self-explanatory name - it allows you to create PDFs from ePUB files. But it supports other file types for the input as well, such as TXT, HTM, RTF, DOC, DOCX, CHM and DJVU.
The app is wrapped in a clean interface with an intuitive layout. Loading items into the workspace can be done by using only the file browser, since "drag and drop" is not supported. Working with multiple files at the same time is possible.
Weeny Free Epub to PDF Converter also allows you to create multiple profiles, and each of them can have its own set of presets.
For instance, you may establish the output directory and make the tool overwrite files if they already exist. In addition, you can edit document metadata when it comes to the title, subject, author and keywords, as well as configure page settings regarding the size, measurement unit, graphic (resolution, scale) and orientation.
The program also lets you add a watermark to the document, whether it is text or an image; you can adjust its opacity level, rotation and offset. Last but not least, documents can be protected with a password, and you can set user permissions (e.g. enable text copying and printing), as well as choose the encryption algorithm (40-bit, 128-bit, 128-bit ARC-FOUR).
Weeny Free Epub to PDF Converter requires a moderate-to-high amount of system resources, finishes a task quickly and delivers PDFs with a good quality concerning the text layout, graphics and images. No error dialogs have been shown in our tests and the app did not hang or crash. To sum it up, Weeny Free Epub to PDF Converter comes equipped with some important features to satisfy users of any skill level.
-Softpedia Editor's Review
Publication on the internet has evolved and there are many formats to choose from. However, the PDF (portable document format) remains the most popular of them all with Adobe providing continued support in the form of Adobe Acrobat Reader and the Adobe Acrobat Professional. So there has been continued demand for all forms of publications to be converted to the PDF format from across the globe.
The ease of use of acrobat and its platform-independent readability is the reason behind the demand. This also eases out the access of all documentation to more people and keeps the standard of documentation consistent. Many free converters for PDF have been launched, however not all of them have lived up to expectations. Many of them are not compatible with a few platforms and some of them also change the format of the document during conversion. We have compared a few free Epub to PDF Converters so that you can make an informed choice to use the best available.
....
Weeny Free Epub to PDF Converter 1.0: This is another of the free Epub to PDF Converters and supports many other formats like CHM, MOBI, DJVU, HTM, TXT, RTF, etc. and converts them to PDF. This software also supports batch processing and is capable of converting multiple files together. This converter can also add watermarks, restrictions and passwords as required in the converted documents and save securely. This converter does not need the Acrobat Reader and does not need to have any printer driver installation to convert or function.
-TakeReviews