Free Video Converter
A free video converter software to convert video files between many formats.
Version: 2.0
Publisher: Weeny Software
Platform: Windows system
License: Freeware
File Name: videoconverter.exe
File Size: 27.7M
Download Software
Video Converter is a free video converter software to convert video files between many formats with ease. It can convert video files from 3gp, asf, avi, flv, mp4, mpg, rm, rmvb, vob, mkv, wmv and more into 3gp, avi, flv, mp4, mpg, mkv or wmv files.
The output video files can be used on popular multimedia devices such as Apple iPhone, iPad, iPod, PSP, MP4 player or Android phone.
Video Converter can also convert video files to audio formats such as MP3, OGG, WAV or WMA.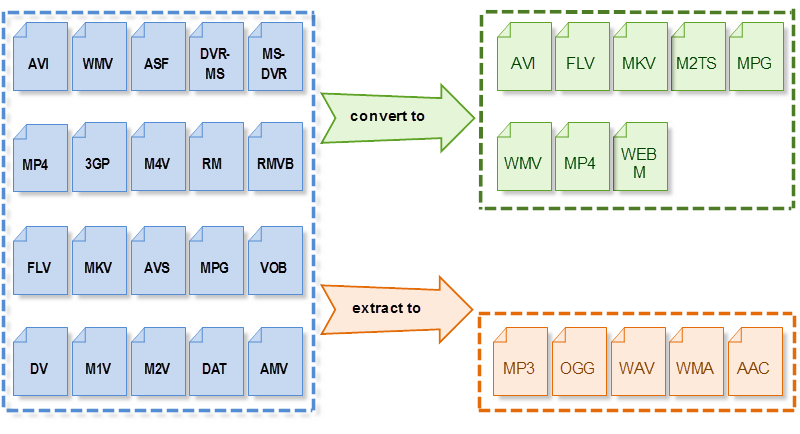 The interface of Video Converter has been designed to be user-friendly and can be easily operated by anyone. Just add video files into the list, set output video format and parameters, click "Convert Now" button and wait for conversion to complete.
Whether you are converting between multifarious video formats or extracting audio from a video, they can all be done in a matter of clicks. Video Converter can also convert a video file to the same format with different video codec, size, bitrate or framerate.
Please note Video Converter can't rip DVD or convert DRM protected video files due to copyright reasons.
Video Converter works on Windows XP, Windows Vista, Windows 7 and Windows 10, both 32-bit and 64-bit versions.
Click the download button above to download Video Converter full version. Full version means the installation file is complete and doesn't require additional video codec or audio codec to run. Full version also means Video Converter software doesn't have any watermark, nag screen, time expiration or function limitations.
Removed DVD ripping function due to the new DVD copyright law.
Updated the video codec to the latest version.
The video conversion speed is much faster than version 1.x.
Support converting from MKV video and converting to MKV video.
Support 720p and 1080p HD movies.
A brand new video cutting interface.
Fixed 'The color scheme has been changed' bug on Windows 7.
Easy to use - A couple of clicks to finish video converting.
Free to use - 100% free to download, install and use, no extra fee.
Free Video Converter - Convert video files between many formats.
Free Video to Audio Converter - Extract audio from video files.
Free Video Cutter - Cut and convert selected video segments.
Hi,
Weeny Free Video Converter is a great product. I have tried quite a few other applications and they have not been as reliable, versatile or as easy to use.
- Paul O2 (pe****@o2.co.uk)
Weeny Free Video Converter is a useful application that will let you convert lots of video file types into different formats. The program supports many input video formats, including MPG, RMVB, VOB, WMV, 3GP, AVI, ASF and so on. You can use this program to convert your files into 3GP, FLV, AVI, MP4, WMV and MPG formats.
The program has been designed to be user-friendly, Its graphic interface is very simple and intuitive. You can convert your files by simply adding them into the program's main window, choosing an output format and clicking on the convert button. Before converting your files, you can set the output files' video frame rate, size, bit rates, audio codec, audio bit rates, sample rate and channels.
This program is great because it allows you to convert your video files into formats that are compatible with many portable devices, such as iPod, iPhone and different cell phones. By using it, you will be able to transfer your favorite videos to your mobile devices so that you can watch them whenever you want. Maybe the best about it, is that it's completely free and it has no limitations at all.
- Software Informer
Convert video files between various formats
Weeny Free Video Converter is a simple-to-use application that allows you to turn video clips into WMV, AVI, MP4, 3GP and MPG, among other file types. But it can also extract the audio stream and save it to MP3, OGG, WAV, AAC and WMA, as well as prepare items for iPod, iPhone, PSP, Zune and DVDs.
The tool is wrapped in a user-friendly interface that allows you to import videos by using only the file browser because the "drag and drop" functionality is not included. It is possible to process multiple entries at the same time.
The file queue provides specific information on each item. This includes the name, duration, format, size, frames per second and status. Once you specify the output destination and profile, you can convert selected items and initialize the encoding operation with the default settings.
Advanced users can fiddle with the audio and video properties in regard to the codec, size, aspect ratio, bit rate, frame rate, sample rate and channel mode. But you can also disable the audio stream.
Furthermore, you can preview clips in a built-in media player and cut them by marking the start and end position. During the conversion procedure, the app can be set to automatically turn off the computer once all tasks are done. In the "Options" area you can specify the thread priority and set Weeny Free Video Converter to add the video codec name to the output filename.
The video processing program requires a moderate amount of CPU and system memory, in order to convert a video in reasonable time. Weeny Free Video Converter is very responsive and includes a brief help file. The output videos have a fair image and sound quality. On the downside, you cannot minimize the tool to the system tray or create output profiles.
- Softpedia
Video converters is application software that we can use for convert video and audio files. Most of converter software is not freeware and you must buy license for use them. If you are looking for any free application for convert your favorite videos then you can use Weeny Free Video Converter. You can use Weeny Free Video Converter for convert video files between many formats with ease. It can convert video files from 3gp, asf, avi, flv, mp4, mpg, rm, rmvb, vob, wmv and more into 3gp, avi, flv, mp4, mpg or wmv files.
- techfeb
Equipped with a pleasant and friendly interface, all menus are accessible via the toolbar, allowing you to easily convert your files without having to configure anything. All that leaves you to do is add your files, specify the destination folder for the converted ones and select the format you want it or convert them. This software provides support for conversion between many video formats including 3gp, asf, avi, flv, mp4, mpg, rm, rmvb, vob, wmv and can also record audio excerpt of a video as MP3, OGG, WAV or WMA.
- kioskea
Weeny Free Video Converter is a powerful and advanced video converter that allows you to convert any sort of video file from one type to another with no trouble at all. This is why this type of program is so popular today and you should really try it out.
- TipsAndTricksForPC