Free Video Cutter is a free video cutter software to cut video file into small pieces.
Free Video Cutter Latest Updates:
Free Video Cutter 2.0 is a brand-new version with many new features and upgrades. It's under beta testing now. Your participation is appreciated.
1) Updated video codec
We have updated the video codec to the latest version. Please upgrade your Free Video Cutter software to the latest version if it can't load, play or convert your video files.
2) Faster cutting speed
The video cutting speed of Free Video Cutter 2.0 is much faster than the speed of version 1.x.
3) Support MKV video
The Matroska Multimedia Container(*.MKV) is an open standard free container format, a file format that can hold an unlimited number of video, audio, picture, or subtitle tracks in one file. Matroska is similar in concept to other containers like AVI, MP4, or Advanced Systems Format (ASF), but is entirely open in specification, with implementations consisting mostly of open source software.
Free Video Cutter 2.0 and later versions support cutting from MKV video and cutting to MKV video.
4) Fixed "The color scheme has been changed" bug on Windows 7
Windows 7 pops "The color scheme has been changed" error if you click play button on Free Video Converter software when Windows 7 Aero desktop is enabled. The error message shows:
The following program has performed an action that requires Windows to temporarily change the color scheme to Windows 7 Basic.
Windows will automatically change the color scheme back to Windows Aero when this program or other programs performing similar actions are no longer running.
This bug has been fixed on Free Video Cutter 2.0.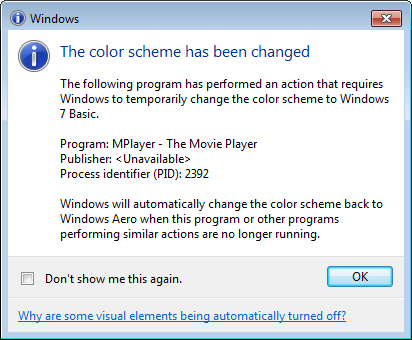 5) Bigger position bar
The video position bar is enlarged to make it easier to set video start/end point.
6) Small improvements
Small improvements and small bugs fixed.