Free PDF Cutter is a free PDF cutter software to cut any PDF file into small ones by extracting any specific pages from the multi-page PDF file.
Free PDF Merger is a free PDF merger software to merge multiple PDF files into one big PDF file.
How to reorder PDF pages:
Sometimes PDF pages may be scanned in the wrong order and you need to rearrange the pages.
Neither Free PDF Cutter software nor Free PDF Merger software can reorder PDF pages. However you can use these two software together to do it.
First, use Free PDF Cutter software to cut the necessary pages into separate PDF files. Then open Free PDF Merger software and add all the PDF files cut by Free PDF Cutter into the list. Click "Move Up" / "Move Down" button or directly drag & drop in the list to adjust PDF pages to the right position. Click "Merge Now" button to create PDF file with new page orders.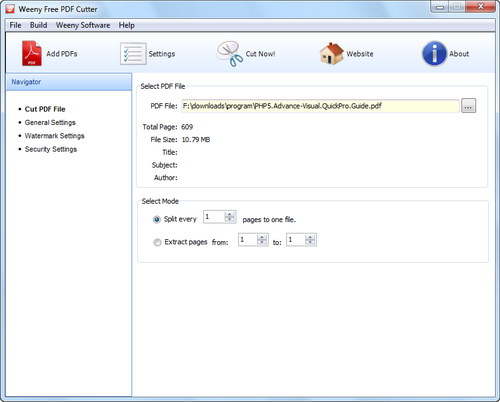 Related how-tos:
How to add Watermark to PDF, How to add Metadata to PDF, How to encrypt PDF Files