Convert audio files online, Audio Converter for Android
Free audio converter software to convert audio formats MP3, OGG, WAV, WMA.
Free Audio Converter
is a free software to convert audio formats MP3, OGG, WAV, WMA from one to another, such as converting MP3 to WAV and WMA, WAV to MP3 and WMA.
Free Audio Converter supports the ability to convert one audio format to the same format with different audio-encoding parameters such as resampling, encoder quality or bit rate etc.
Free Audio Converter's easy-to-use interface makes it easy to convert multiple files in a single batch, regardless of their sources and target formats.
Free Audio Converter can also easily edit audio tags information such as ID3 or APE.
Please note Free Audio Converter can't rip CD audio or convert DRM protected audio files.
Free Audio Converter works on Windows XP, Windows Vista, Windows 7 and Windows 8, both 32-bit and 64-bit versions.
Current version: 1.4
Full Version:
Click the download button above to download Free Audio Converter full version. Full version means the installation file is complete and doesn't require additional video codec or audio codec to run. Full version also means Free Audio Converter software doesn't have any watermark, nag screen, time expiration or function limitations.
Main Features:
Easy to use - A couple of clicks to finish audio converting.
Free to use - 100% free to download, install and use, no extra fee.
Free Audio Converter - Convert audio files between many formats.
Edit tags - Edit audio file tags such as ID3 or APE.
Flexible settings - Set audio sampling frequency, channels mode, bitrate and VBR.
Fast conversion speed - Audio conversion is performed directly without any temporary files.
Screenshot: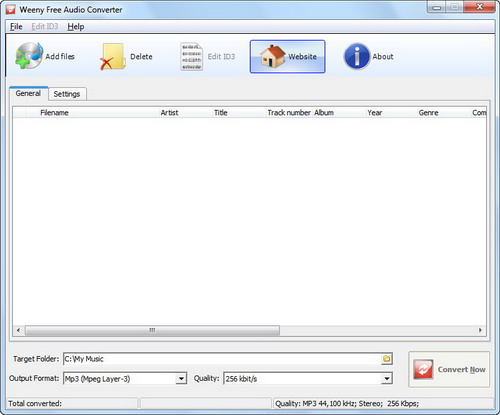 Software Reviews:
Weeny Free Audio Converter is a handy application to convert audio files from one format into another. The application supports MP3, WMA, WAV and OGG as input and output formats. With this program, you will be able to convert your songs so that they can be played on different portable devices and audio players. You can also use this software to convert a song into the same audio format with different output parameters: the converter allows you to set the quality for the output files. Additionally, it provides you with the function of editing your audio files' tag information: you can change any song's title, artist name, album, genre and more. It is also possible to add comments to the output files.
This useful application can convert many files into any of the supported output formats at once. To convert your files, you only have to add them into the program's main window, set the output folder and output format and then click on the 'Convert Now' button. The program's graphic interface is okay, but it doesn't have an audio player to play your files. However, it's a great program considering the fact that it's completely free.
-Software Informer
THANK YOU! The Weeny Free Audio Converter is a fantastic application. I purchased it (Weeny Free Audio Converter's predecessor is shareware sells for $29.95) after listening to just 5 converted tracks (WMA to WAV & MP3).
I'm writing firstly to thank you, secondly to tell you why I like this app so much, and thirdly to offer suggestions that will make this application even better. I like your application so much because it does exactly what I need it to do, and it is simple to use. The GUI is uncluttered, straight-forward, and easy to understand.
Perhaps most importantly, however, I was able to install the application without Admin rights on my computer. This is key-You may wish to mention it as a benefit in your marketing materials. Until now, I was unable to rip CDs to MP3s, because all of the ripping applications I found required admin rights. I do have Windows Media Player installed, so I was always able to rip CDs to WMA. Now, using your application, I'm able to make quality conversions from WMA to MP3- I can, in effect, rip from CD to MP3 WITHOUT ADMIN RIGHTS!
You may even consider adding a section in the Help files with step-by-step instructions for others in my situation (just think of all the business travelers with company laptops, strict IT policies, and iPODs). Even include screenshots from Windows Media player for those not familiar with its features. Put "Admin Rights" in the search terms of Download.com and your other distribution channels, and you're almost sure to see your sales increase.
-Greg