Free PDF cutter software to cut PDF into small pieces.
Free PDF Cutter
is a free PDF cutting software to cut any PDF file into small ones by extracting any specific pages from the multi-page PDF file.
You can use Free PDF Cutter to cut PDF file by pages, bookmarks or page ranges. You can also cut one big PDF file into equal-size small PDF files. Free PDF Cutter can provide you with perfect output quality and amazing speed.
You can easily rearrange PDF pages or replace some pages in PDF file by using Free PDF Cutter and Free PDF Merger software together.
Additionally, Free PDF Cutter can add watermark, passwords, restrictions and certain information such as title, subject, author or keywords to the output PDF documents.
Free PDF Cutter doesn't require Adobe Acrobat Reader installed. Free PDF Cutter doesn't depend on any print driver so it will not install any print driver on your computer.
Free PDF Cutter works on Windows XP, Windows Vista, Windows 7 and Windows 8, both 32-bit and 64-bit versions.
Current version: 1.3
Full Version:
Click the download button above to download Free PDF Cutter full version. Full version means the file is complete and doesn't require other PDF software, plug-in or printer to run. Full version also means Free PDF Cutter software doesn't have any watermark, nag screen, time expiration or function limitations.
Main Features:
Easy to use - A couple of clicks to finish PDF cutting.
Free to use - 100% free to download, install and use, no extra fee.
Free PDF Cutter - Cut PDF file into small pieces.
Set PDF properties - Set certain information such as title, subject, author and keywords etc.
Add watermark - Add image watermark or text watermark to PDF document.
Secure PDF - Set user password, master password and restrictions to PDF document.
Stand-alone Software - Doesn't require Adobe Acrobat Reader installed.
Screenshot: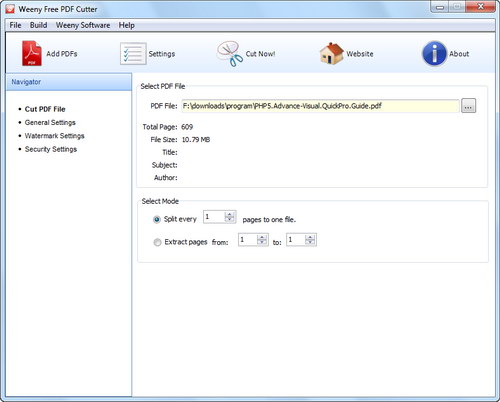 Software Reviews:
"Superb - highly recommended."
Version: Weeny Free PDF Cutter 1.2
Pros: Very light, fast, well-organized, and stable. A+++++ (I am always amazed how much software exists which is popular but bloated, slow, and now well-designed...... while there is software which is unpopular or unknown - but superb. This one is an example of the latter!)
Cons: none (except that it lacks advanced features... which are not what I wanted anyway)
Summary: A simple, elegantly designed program - a tiny gem.
-adm28 (Review at CNET Download.com)
There are various applications and services available out there that let you view, and most importantly, cut or split your PDF documents into separate files, but most tools require you to set advance options to get your job done. Weeny Free PDF Cutter is a small, yet powerful application, which lets you cut your PDF document pages into separate documents, so that you can easily rearrange specified pages according to your preferences...
Weeny Free PDF Cutter is an excellent tool to split PDF documents. Not only does it allow you to save pages from PDF file separately, it also encrypts the PDF documents with specified key.
-AddictiveTips