Free file cutter software to cut or merge files.
Free File Cutter
is a free software to cut big file into small pieces or merge multiple files into one large file.
Free File Cutter is very easy to use. Just add the files you want to cut, enter the file size for each output file, and click Cut Now button to start cutting.
Free File Cutter helps to share or backup large file. For instance, a file of more than 10 gigabytes in size can be split into smaller parts which then can be burned DVDs, copied to USB sticks or uploaded to an online storage service like RapidShare.
Please note the files cut by Free File Cutter can't be opened individually. We also provide a series of dedicated software to cut or merge video, audio and PDF files. The files cut by this software series can be opened individually. For example: You can use both Free File Cutter and Free Video Cutter software to cut a FLV video to many small pieces, but only the pieces cut by Free Video Cutter can still be played by a video player software.
Our cutter software series includes: Free Video Cutter, Free Video Joiner, Free Audio Cutter, Free PDF Cutter and Free PDF Merger.
Free File Cutter works on Windows XP, Windows Vista, Windows 7 and Windows 8, both 32-bit and 64-bit versions.
Current version: 1.1
Full Version:
Click the download button above to download Free File Cutter full version. Full version means the file is complete and comes with all the media needed to install and manage this software. Full version also means Free File Cutter software doesn't have any watermark, nag screen, time expiration or function limitations.
Main Features:
Easy to use - A couple of clicks to finish file cutting or merging.
Free to use - 100% free to download, install and use, no extra fee.
Free file cutter - Cut big file into small fragments.
Free file merger - Merge some files into one large file.
No limitations - No file type limitations and no file size limitations.
Screenshot: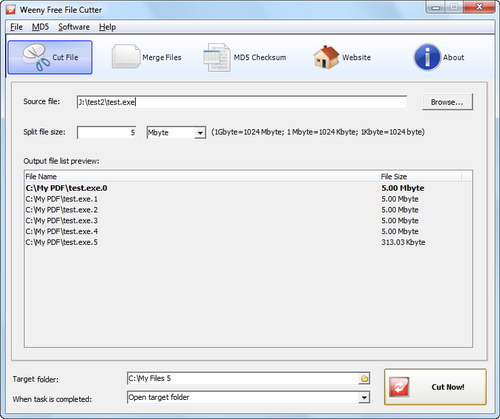 Software Reviews:
As its name suggests, Weeny Free File Cutter is a simple and easy to use application designed to help you cut large files into smaller pieces and merge multiple files together.
With the help of this application, you will be able to share or backup large files. Additionally, it comes with a MD5 checksum reader that enables you to check the file integrity.
-Softpedia