A free duplicate file finder and cleaner software.
Free Duplicate Finder
is a free duplicate file finder and cleaner software to instantly scan your computer for duplicate files and list them for you to delete.
You'd be surprised just how many redundant or duplicate files you could find forgotten in an obscure documents folder. Free Duplicate Finder will deep scan for all types of files include photos, music, video, Word documents or text files etc. If a file appears twice on your computer then Free Duplicate Finder will find it. Once these files are found you are provided with helpful tools to enable you to select which copies to delete or move. These files can be deleted to the recycle bin or moved into an archive elsewhere.
Removing duplicate files will significantly free disk space on your computer. It will also help to speed up indexing and reduces back up size and time. Your computer isn't fully optimized until you've removed all unnecessary duplicate files. Let Weeny Free Duplicate Finder remove the duplicate files!
Free Duplicate Finder is our first software to use Windows Metro style interface. Your opinions about the interface are appreciated.
Free Duplicate Finder works on Windows XP, Windows Vista, Windows 7 and Windows 8, both 32-bit and 64-bit versions.
Current version: 1.2
Full Version:
Click the download button above to download Free Duplicate Finder full version. Full version means the file is complete and comes with all the media needed to install and manage this software. Full version also means Free Duplicate Finder software doesn't have any watermark, nag screen, time expiration or function limitations.
Main Features:
Easy to use - A couple of clicks to finish duplicate files scanning.
Free to use - 100% free to download, install and use, no extra fee.
Free Duplicate Finder - Find duplicate files in drives.
Free Duplicate Cleaner - Delete duplicate files or move them into an archive elsewhere.
Wizard interface - Wizard interface to guild you finish duplicate files scanning step by step.
Fast Scanning - Fast scanning and accurate duplicate comparison.
Screenshot: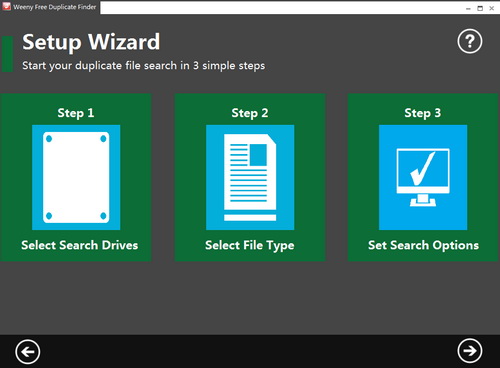 Software Reviews:
As its name suggests, Weeny Free Duplicate Finder is a handy and reliable application designed to help you easily find and remove duplicate files on your computer.
The application performs a deep scan of your drives and detects all the duplicate files, including photos, music, video, Word documents or text files etc. Once the files are found, you are provided with tools for delete or move copies.
-Softpedia
Over time, a lot of files get accumulated in our hard drives due to downloading content from the internet or copying files from our cameras and mobile devices. We often end up with multiple copies of the same files, which is pretty annoying as they take up valuable hard drive space without serving a purpose. It is extremely tedious to look for duplicate files manually by browsing every folder, and even then there is a chance of missing out on many. There are several tools available that allow you to locate and delete duplicate copies of files such as GDuplicateFinder and Fast Duplicate File Finder. Free Duplicate Finder is another application for Windows to help you locate duplicate files, and its lets you do so based on file type including photos, music, videos, documents, executable etc. When found, the duplicate files can be moved to a different folder, allowing you to decide if you want to delete or keep them.
The application features an interface inspired by the Windows 8 Modern UI, and provides you with an easy, step-by-step wizard to search and remove the duplicate files. Step 1 involves selecting the drive. Next, you choose the file types to search for in the 2nd step. Finally, you specify your search options in the 3rd one. After launching the application, click the forward button in the lower right corner to move to the first step.
You can choose complete drives to search for duplicate content. Do keep in mind that the application only supports NTFS partitions. Just select any drives that you want to scan, and hit the forward button...
-AddictiveTips