Free audio cutter software to cut or merge audio files.
Free Audio Cutter
is an easy-to-use and free audio cutting software to cut audio file into small pieces or merge audio files into one large file.
You can select the cut points manually using the embedded audio player or automatically cut the audio file into equal-size fragments. You can also add multiple audio files into the list, and merge these files into one audio file.
With Free Audio Cutter, you can easily cut off any unnecessary parts of an audio file you don't want and rearrange the rest parts. It's very useful for creating custom ringtones or managing long audio recording files.
Free Audio Cutter supports cutting or merging audio formats MP3, OGG, WAV and WMA. It doesn't support DRM protected WMA files for copyright reasons.
Free Audio Cutter works on Windows XP, Windows Vista, Windows 7 and Windows 8, both 32-bit and 64-bit versions.
Current version: 1.4
Full Version:
Click the download button above to download Free Audio Cutter full version. Full version means the installation file is complete and doesn't require additional video codec or audio codec to run. Full version also means Free Audio Cutter software doesn't have any watermark, nag screen, time expiration or function limitations.
Main Features:
Easy to use - A couple of clicks to finish audio cutting or merging.
Free to use - 100% free to download, install and use, no extra fee.
Free Audio Cutter - Cut audio file into small fragments.
Free Audio Merger - Merge some audio files in one large file.
Free Audio Converter - Convert audio files after cutting or merging.
Flexible settings - Set audio sampling frequency, channels mode, bitrate and VBR.
Screenshot: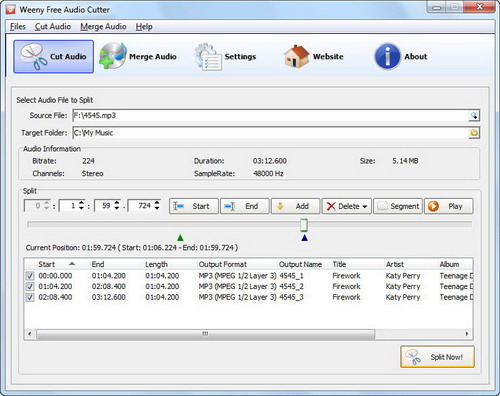 Software Reviews:
Folks:
I tried out your software ... very handy ...
My goal was to chop up a large audio interview (20 MB WMA file) into a collection of smaller pieces so that I could serve it from my Web site and allow a listener to move around in the interview with minimal latency.
So, the fact that Weeny Free Audio Cutter enables one to select a number of parts into which to split the file is just what I needed.
-Smith
Weeny Free Audio Cutter is a great application which provides you with the function of cutting audio files into smaller pieces in an easy way. But that is not all this program can do. With it, you can also join many audio files, regardless of their format, into one large file.
This software will let you cut your files by manually setting Start and End points on the time bar. It can also cut songs into equal-size fragments. The application comes with a built-in audio player that will let you play your songs and easily select the part of the file that you want to cut. This utility also works as a conversion tool. It allows you to set Mp3, WAV, WMA and OGG as output formats.
Besides all the mentioned features, the application also allows you to edit your audio files' tag information. For example, you can change your songs' title, album, genre, year and add comments to it. In addition to this, the program also gives you the power to set output parameters, such as audio bit rate, frequency and channel mode (mono and stereo). The application features a great graphic interface which does not require any technical knowledge to be operated. In conclusion, this is a great free program to cut, convert and merge audio files.
- Software Informer