Free system cleaner software to clean up Windows and boost performance.
Free System Cleaner
is an all-in-one free system cleaning software to clean up Windows system, boost performance and prevent registry corruption.
With simply one click, Free System Cleaner allows you to delete Windows temp folder, search history, run history, open/save history, recent documents, your internet browser's cache, cookies, history, typed URLs, and much more.
Free System Cleaner's powerful plugins manager makes it easy to delete the tracks of third-party applications, such as search history of Google Toolbar, playlist of Real Player or recent used files of Microsoft Office etc.
Free System Cleaner allows you to safely clean, repair, backup and compact Windows registry with easy.
You can also use Free System Cleaner to delete files or folders completely to prevent them from being recovered.
Free System Cleaner works on Windows XP, Windows Vista, Windows 7 and Windows 8, both 32-bit and 64-bit versions.
The software name is changed from Weeny Free System Cleaner to Weeny Free Cleaner due to "System Cleaner" trademark conflict.
Current version: 1.4
Full Version:
Click the download button above to download Free Cleaner full version. Full version means the file is complete and comes with all the media needed to install and manage this software. Full version also means Free Cleaner software doesn't have any watermark, nag screen, time expiration or function limitations.
Main Features:
Easy to use - One click to finish cleaning Windows system.
Free to use - 100% free to download, install and use, no extra fee.
Delete Tracks - Delete all tracks on your computer.
Clean Registry - Clean, repair, backup and compact Windows registry.
Delete Files - Safely delete files to prevent from being recovered.
Screenshot: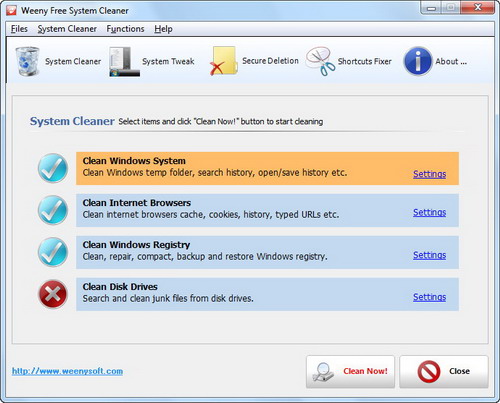 Software Reviews:
Weeny Free Cleaner is yet another windows cleaning and tweaking tool. It has an easy to use tabbed interface that helps cleaning and tweaking much easier with the choice on what to clean. What's attractive in Weeny is its highly customizable nature.
You can decide what to clean and this can be tweaked from the Settings option. For instance, clicking on Settings in the Clean Windows System tab will pop up a new window, this has two internal windows one is dedicated to Windows like cleaning Temporary Files, Run History… the second window is for Applications which acts as plugins manager and lets the cleaning the tracks of a huge list of third-party applications such as Mass Download History Information, MS office 2007, Magic ISO Maker 4.6, Microsoft Media Player, Google Toolbar history and more.
The Clean Internet Browsers tab takes care of IE and Firefox, plus includes cookies (for IE only) management tools such as to make exception which is important to not re-enter passwords in case logging to certain sites.
Clean Windows Registry Section will do its purpose to clean and to optimize windows registry from broken obsolete keys and to give life back to windows registry. Weeny backs up everything before it starts cleaning, so if anything goes wrong, you can always restore your computer to a previous working state.
Clean Disk Drives will let the user to choose which drive to clean and also to handle exception lists (Skip Files And Folders). Various extensions are supported in order to tweak the cleaning from .temp to .bak and more. There is a safe database but a user can include or exclude files or folders. In the option Settings it is possible to exclude system files or to include zero length empty files.
Apart from cleaning, Weeny Free Cleaner also does Secure deletion (Standard, Military Standard, NSA Standard) of desired files/folders that as the author claims they cannot be recovered, and also there is Shortcuts Fixer section to fix broken or invalid shortcuts present in desktop, Start Menu and other locations.
Weeny Free System Cleaner is a highly customizable cleaner that can be scheduled to run periodically. It works with Windows XP, Vista, and 7. It's not only customizable but also secure, because you can password protect Weeny Free System Cleaner thus denying others to use it, also its possible to launch the program on windows startup and to schedule cleaning at chosen period of time during the week.
-techishare
Weeny Free System Cleaner is a free system cleaning software to wipe away your tracks from Windows system, web browsers and third-party applications. Weeny Free System Cleaner also offers a Windows Registry cleaning utility that quickly scans for invalid entries such as obsolete ActiveX, OLE or COM before removing them. It can backup your Registry before removal, in case it accidentally deletes a crucial component. Furthermore, Weeny Free System Cleaner offers more functions like system tweaking, secure file erasing and shortcut fixing etc.
Weeny Free System Cleaner handles the majority of PC cleaning chores and it's 100% free to use, we highly recommend Weeny Free System Cleaner to all users.
-GearDownload