Recover license key of Windows, Office, software and games
Free Key Recovery
is a free software to recover the ProductID and the CD-Key of Microsoft Office (Microsoft Office 2003, Microsoft Office 2007), Windows (Including Windows 98, xp, 2003, vista and 7), Visual Studio, Exchange Server, and SQL Server installed on your computer.
Free Key Recovery can recover license key of popular third-party software such as Adobe Photoshop, AutoCAD or Symantec AntiVirus etc.
Free Key Recovery can also recover CD-Key of popular games such as Battlefield, Call of Duty or FIFA etc.
Free Key Recovery can be very useful if you lost the key of your Windows, Office, software or games, and you want to reinstall it on your computer.
Free Key Recovery works on Windows XP, Windows Vista, Windows 7 and Windows 8, both 32-bit and 64-bit versions.
What's New: Scan possible key information of infinite software based on key storage pattern.
Current version: 1.2
Full Version:
Click the download button above to download Free Key Recovery full version. Full version means the file is complete and comes with all the media needed to install and manage this software. Full version also means Free Key Recovery software doesn't have any watermark, nag screen, time expiration or function limitations.
Main Features:
Easy to use - A couple of clicks to finish license key scanning.
Free to use - 100% free to download, install and use, no extra fee.
Free Key Recovery - Recover license key of Windows, Office, software and games.
Portable software - It's portable and can be run on a flash driver.
Export keys - Export found keys to txt documents.
Screenshot: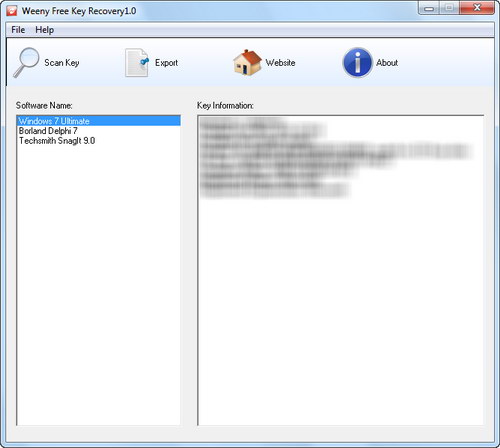 Software Reviews:
Windows 8 will be released soon. You may need to re-install some software you bought to the new Windows 8 operating system. Do you remember all the license keys for the software you bought? If not, here is a handy software to list all the key information in your computer.
Weeny Free Key Recovery can recover the ProductID and the CD-Key of Microsoft Windows, Microsoft Office, Visual Studio, Exchange Server, SQL Server and many other third-party software or games. You can export all the license information recovered to a well-formatted text file in case you need it later.
Please note to get a software's license key, you must have installed and registered this software before. Weeny Free Key Recovery can't recover license key if you didn't register the software on your computer.
- GearDownload
Having to reinstall software is never exactly fun, but it gets particularly annoying if you've been unfortunate enough to lose the CD case, email or whatever else contained that application's product key. Especially if the developer isn't able to send you a reminder.
Even if you can't find any record of the product key, though, you may be able to use a product key finder such as Weeny Free Key Recovery to recover it from your existing installation.
At first glance, the program doesn't seem too impressive. It's easy to use, yes -- just launch it, and all the supported product keys are displayed right away -- but the problem is that the "supported" list is a little short. On our test PC, for instance, it only displayed the keys for Windows 7, Office 2010 and Axialis IconWorkshop 6.0, and the author's website only lists a few more applications: Photoshop, AutoCAD, Call of Duty, and so on. What's more interesting, though, is an extra option called "Scan Plus". Click this button and Weeny Free Key Recovery will scan your system looking for records which it thinks might be product keys -- Registry or file settings which use likely keywords, for instance -- before displaying them for you.
As this technique is really just a form of intelligent guessing, we weren't surprised to see that it often made mistakes. And our final report included lots of junk entries...
But, amongst the high volume of junk, there were also real product keys for Macrium Reflect, VMware Workstation, Cyberlink PowerProducer and more. And because the program is using a generic detection technique, it could find keys for many other apps, even those which aren't supported by apparently more powerful key recovery tools.
The important word here is "could", of course: there are no guarantees. But if you're looking to recover a product key and similar tools haven't been able to help, give Weeny Free Key Recovery a try: its "Scan Plus" option just might be what you need.
-Betanews